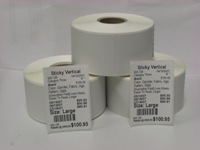 1-across direct thermal vertical tags can only be used in the following Resaleworld software products…
* Liberty4 Consignment (Version 3.5a or above)
* Liberty4 Trading Assistants (Version 3.5a or above)
These tags are compatible only with the following printers...
* Zebra LP2844
* TSC-DP245, 245 Plus, and the 247
All prices already include shipping costs. Normal shipping is UPS Ground.
Minimum order is 4,000 tags per order. The price below is for 1 Box of Tags The "Qty" selection below is for 1 box or 4,000 tags. Select the higher quantity level for better discounts.
To mix and match these tags with our colored tags, you would need to submit your preferences in the comment section at checkout.
4,000 Tags = $76.80/box = $
16.95
/k
12,000 Tags = $66.80/box = $
14.95
/k (Save
13%
!)
24,000 Tags = $62.30/box = $
13.95
/k (Save
19%
!)