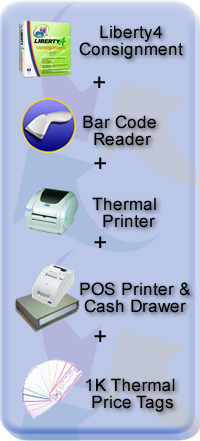 If you already have a computer but need just about everything else to open your store, the "Pro Package" is the 'kitchen sink' for new store owners. We can't really think of anything else you might need to get going. With this bundle, you get the following...
Optional
Whew! That was a mouthful. Just make sure you have a good computer before you set everything up. If not, you may think about getting one of our Liberator systems.
Also, the MT-30 Credit Card Device supports EMV, card swipe and signature capture. You can also use the signature capture device for payouts and consignor contracts.
You can lease the professional package. Just apply here.