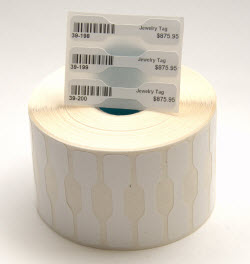 Thermal Jewelry Tags




Description:



Our NEW jewelry tags are perfect for small items such as rings, bracelets and accessories. They are only 1/2" x 2" and can be folded in half so that the bar code is on one side and the price and category are on the other side.
Sorry, jewelry tags can only be used in Liberty 2002 or Liberty4 Consignment!

Using these tags requires either an Eltron 2622, Eltron 2722, Eltron Orion, Eltron/Zebra 2844, Eltron/Zebra 2824, Eltron/Zebra 2443 or TSC Thermal printer.
These tags are only available in white and they are 'sticky'!
All prices already include shipping costs. Normal shipping is UPS Ground.
There are approximately 2560 jewelry tags per roll.
The price shown is for one roll.